The Celestial Realignment
The Moon Stirs! Prepare yourself for the unexpected by looking to the stars. As the celestials transition, you may find yourself buried with riches, or simply buried. Act quickly or you will regret it. Should you fail to act, you may find yourself at assailed by the locals.
These locals have begun to mobilize their more seasoned guards. Should you turn your back, you may find yourself facing their Elites. The Elites are the 1% of "society," answering only to The Ultras, the pinnacle of their band of miscreants. Save for The Eldritch Horrors which await the truly unfortunate adventurers. 
Your neighbors have taken notice of this celestial activity. After noting the enhanced celestials, your neighbor has decided to embark on a mission to conquer the stars. The space race has begun. Deanin LLC's stock isn't the only thing going to The Moon. Ultimately, we will have to look beyond our own Moon. Due to the irresponsible carbon utilizations of neighboring Cyrus's, 
As the botanical and ecological stability of the region continues to deteriorate due to the corrupt governance and backdoor deals, the natural environment has begun to rise up. Increased natural, magical energy has erupted. For those of you more adept at magic, you may wish to harness this magical energy. If you choose to pursue this relationship with nature, consider combining the essence of a tree with a simple book. Nature will guide you from there, at your own risk..
If you've heard the buzz around town, you might have noticed that some members have been rather busy bees. Should you find yourself in the proximity of a beehive, tread lightly. They have begun to industrialize and mobilize. The bravest of adventurers can attempt to ascend the throne. By violently teleporting into the hives with the power of ender pearls, you can venture forth into the realm of the bees. Should you triumph, unbeelievable armors may await you. Just beeware the beehemoth.
As the tides change throughout this violent response to your presence in these lands, the focus may begin to fall on those closest to the land. Those who choose to do more than Go Fish may find themselves in the presence of new aquatic wildlife, some of which may require new techniques or tools to catch.
For the bravest adventurers, those who have braved The Nether and The End, you may be left wondering if your God(s) have forsaken you. Should you wish to ask them yourselves, open the gateway to the Paradise Lost, The Aether. Oh, you've never heard of this land?
Ah, come hither, let me tell you a tale of a land in the sky, a hostile paradise lost to time. …

The Aether is a shattered world set on a canvas of clouds, painted from pastel greens and gentle blues, cast upon a new dawn.
This world is a host to a great many creatures, peoples, and places, amidst the sea of aercloud you may find
landscapes unlike any you've seen before, dungeons filled with trap and treasure, and hamlets that may make a for a goody home.
Gaze upon the horizon as a new dawn breaks over this olden land, allow yourself to get lost in the endless expanse, let your heart guide you.
Gaze upon the moon as you wander amidst snow, song, and sand, remembering the home you left behind but never looking back.
For what does homesickness say forthwith about a man when wonders lay abound at each crevice…
Regardless, why are you still here? Go venture out! I am not going to tell you the whole story, go find it out yourself!
After all…
An explorer must explore.
Updating To Deanout Valhelsia 1.2.1
Take a deep breath, we'll get through this difficult upgrade process together.
1. Download this zip file.
2. Launch your Curse Forge Client.
3. If Minecraft crashes, launch it again.
4. Play the game.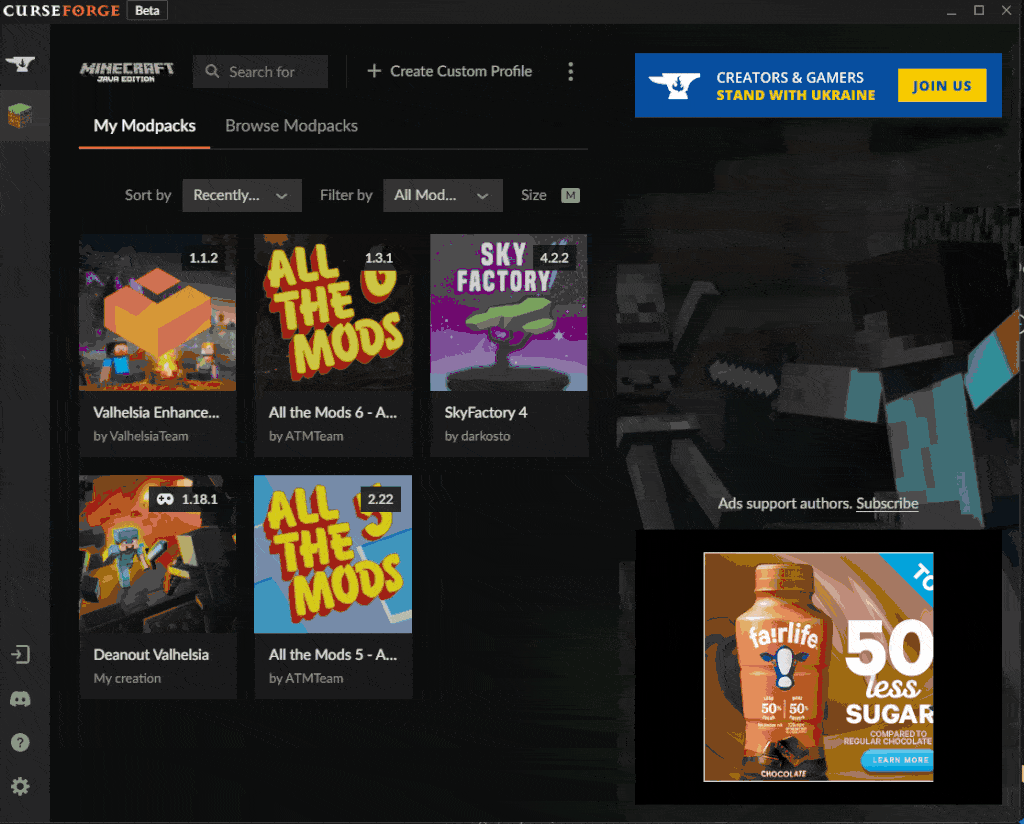 Conjuring
Styled Chat
Mining Dimensions
Agape Space Exploration
The Bumble Zone (For Brad)
Enhanced Celestials
Amplified Nether (256 high, it big)
Yungs Extras
Hookshot (For Spiderman)
Yungs Bridges
Paradise Lost (The Aether)
Go Fish (For The Fisherman)
Medieval Weapons
Villager Quests
Voidz
Stoneholm
Iron Jetpacks
Eldritch Mobs
Wireless Networks
Botania
Better Sleep (Sleep voting, heals when you sleep)
Fixed some generation issues
Hotkeys and user preferences are reset upon update. This may include waypoints and map data.
The Nether has been reset. This means you will have to recreate your portal or you will have no way home!
Implement a mod to allow for recreation of mob grinders.